---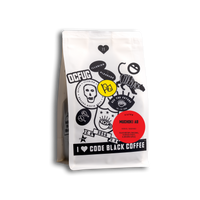 Muchoki AB, Kenya
VARIETAL: SL28, RUIRU 11
PROCESS: WASHED
REGION: MUCHOKI ESTATE, KANGOCHO, NYERI COUNTY
ELEVATION: 1800 
CUP: BLACKBERRY, RAISINS, COOKED FRUIT & BROWN SPICE
ROAST: FILTER
Roasted on 14th August
Muchoki Estate was established in 1956 by Eliud Muchoki Mahihu and Miriam Muthoni Mahihu as a small coffee farm. As a family enterprise, the coffee was planted by the Muchoki's with the help of the whole family, until they eventually filled the full 10 acres of land. This was a huge accomplishment, considering that the planting took place during the Mau Mau Rebellion; the Kenya Emergency war period (1952-1960).
The coffee at Muchoki is 4000 trees of SL 28 and 650 trees of Ruiru 11. Initially the coffee used to be taken to the local coffee factory for processing, but the family quickly realised that they had no control of the quality. In 2001, the family invested in coffee processing machinery so that the initial process could be handled at the farm.
The management at the farm is part of the Muchoki extended family, they love their trees and take great pride in their product. They are meticulous about every step of their coffee production, from nursery, to planting, pulping, milling, grading and drying. Paying expert attention and detail allows for greater guarantee of quality.